Happy Birthday to an unloved Bull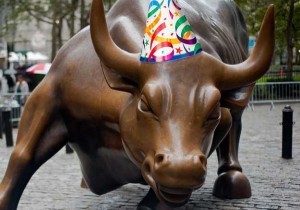 There's a saying that bull markets don't die of old age. That's a good thing because the current bull market, which celebrated its seventh birthday last week, is positively elderly.
Seven years doesn't sound that old, but the rally that world share markets have enjoyed since March 9, 2009 is the third longest (or oldest) ever, and if it hangs on until the end of April 2016, it will move into second place.
Fortune magazine put the current bull market in context by describing it in "market years" in much the same way we consider a dog's age in human years.
The average bull market lasts 59 months according to S&P Dow Jones Indices. The average American human lives about 79 years, or 948 months, which is 16 times longer than the average bull market. Multiply the current bull market of 84 months by 16 and you get 1,344 months or 112 years.
But even though the bull market is long in the tooth, he is sprightly compared to the oldest bull market ever (known affectionately as the dot-com bull) which lived to the ripe old age of 151 before dying in March 2000.
How healthy is this bull market? Well it is still mobile, but slowing. One commentator noted while this bull might not have the stamina to charge at the gate, it is certainly fit enough to walk to it.
In terms of returns, this bull market has seen the S&P500 index lift around 200% since the low of March 2009. The average return of all bull markets is 167%, with the healthiest ever bull racking up a 400% gain.
There might be more to come, but the current bull is showing its age, with the strongest gains being several years ago. The last year has been particularly hard, and the bull has flirted several times with a 20% correction which would bring its life to an abrupt halt.
Age is not the only unique feature of this current bull market. It has been one of the most unloved bull markets in history.
When it began in 2009, nobody wanted to believe that markets could rise, let alone that they could rise consistently and turn into a bull market. In the aftermath of the global financial crisis, large and small companies were teetering on the brink of collapse, the world economy was on its knees and predictions of a 1930s-style Depression were rife.
I remember the dire headlines at the time; they were enough to make the most optimistic investor doubt herself.
Even after the 60% rally in the year to March 2010, and even after central banks started quantitative easing programmes which lowered interest rates and made shares more attractive; investors refused to believe the market gains would last.
Just as the bull market was overlooked by cynical investors, so were its best performers. Few investors would have picked the 34 companies in the S&P 500 whose share prices lifted more than 10 times their March 2009 price. They are as varied as they are impressive. Netflix was trading at just $US5 per share in March 2009. It now trades at around $US96, giving astute investors a 1664% return. Apparel company, Under Armourhad a market valuation of $US1 billion in 2009; it is a $US15 billion company today.
Happy birthday bull market. You've had a good innings, and the end may well be nigh. But like all good bulls, we'd be silly to assume you've got no charge left in you.
By Carmel Fisher, Managing Director
March 18, 2016